Disavowing Links and Domains - Frequently Asked Questions (FAQ)
---
I heard that Google will find and ignore all unnatural links for me. So why should I disavow?
There's no doubt, that Google is getting better at tackling web spam and toxic links.
There's also no doubt that there's still a wide range of unnatural links they have no idea how to identify reliably.
The questions to you as an SEO is simply:
Do you want to take matters in your own hands and disavow links that you are sure you don't want to link to you?
If the answer is yes, you can use the Disavow Tool - that's why we have it.
Over the years people have always questioned, if it is worth it to take matters in your own hand, and the answer was always along the lines: "Yes, you can use it to take matters in your own hand".
Sources:
Will I get all my rankings back after disavow done and the penalty removed?
Question about a Google Manual Penalty that I just got notice about in Google Search Console.
After you disavow, resubmit, does your site reappear at the place it was in google search results? Or do you get knocked to the bottom.
Which and how many links matters
How much traffic you receive back after a Google penalty is lifted depends entirely on
how many and which links got you the ranking in the first place
how many and which links got you the penalty
how many and which links you had to disavow
Of course, if you disavow links they don't count anymore, so don't expect to go back where you were from THOSE links.
In addition, it may be required to disavow a lot more links to get rid of the penalty, as you have hit the risk threshold and were penalized for your link building, as Google states.
That being said, we have seen everything from really poor results to really great results the disavow is done well, as in some screenshots below.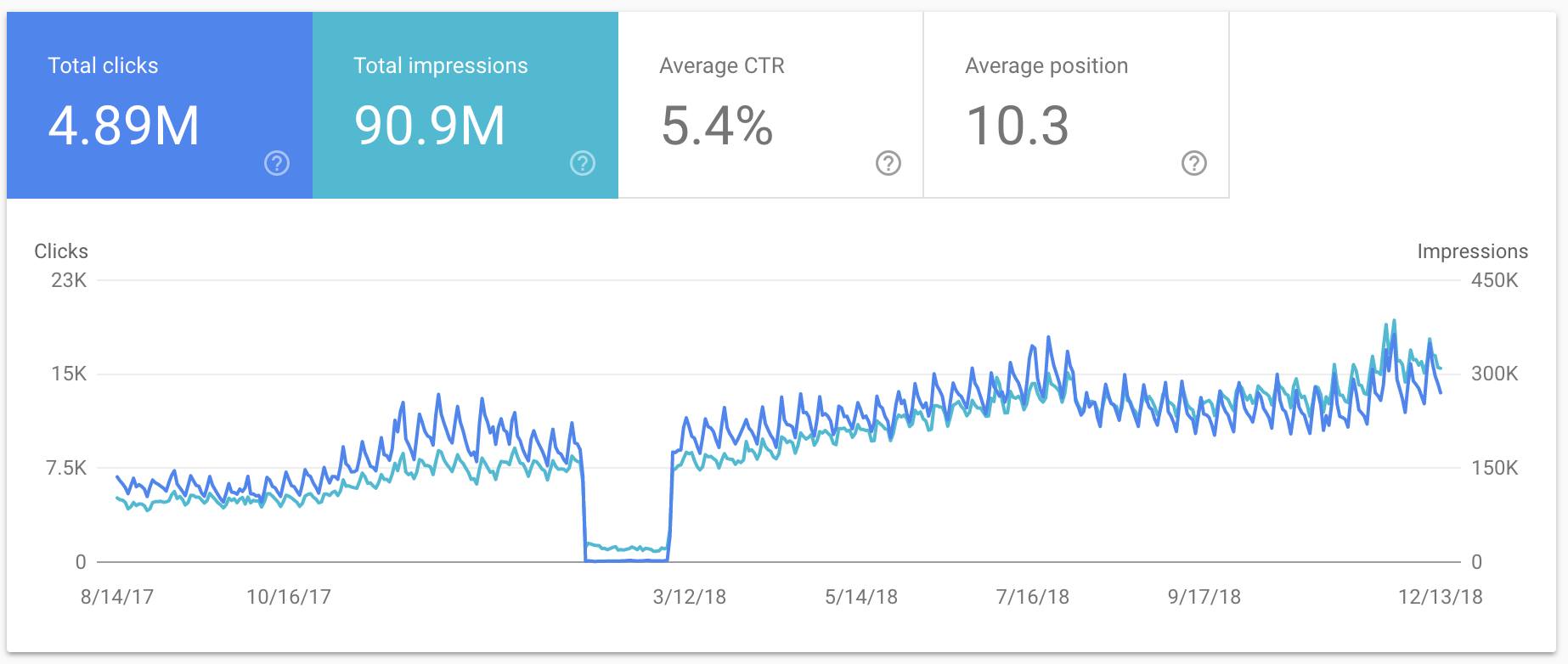 That Disavowed Links are recrawled matters
In addition to uploading the disavow file, you also need to make sure that the disavowed links are crawled.
Link Detox Boost, part of the LinkResearchTools Smart offering ensures that since 2013.
Disavow only works with Crawl
Q: Does google disavow file works instantly after file is added or? A: The Disavow directive is only processed when the links are crawled.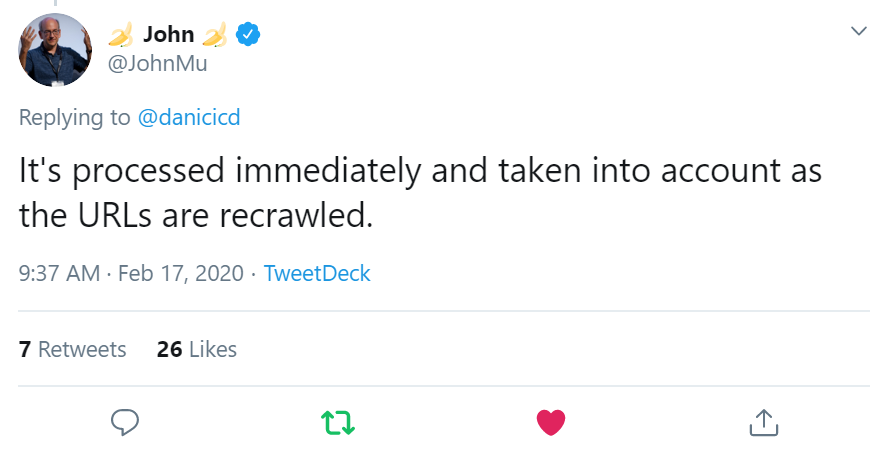 This old insight is the reason why Link Detox Boost is so important.
Full twitter thread: https://twitter.com/JohnMu/status/1229323910535053312
Google Crawling from fast to super-slow
Pages are reprocessed at different rates, some hourly or daily, others go multiple months between getting checked.
Especially the spammy links are not crawled often.
Full twitter thread: https://twitter.com/JohnMu/status/1229003258636664832
Should I disavow links with money anchor text?
A certain percentage of money anchor text is normal in every industry. First you should find out if your distribution of money keywords is normal for your niche or not.
Second, just because a link has a money keyword, it doesn't mean that it's a toxic link. You always need to check if the backlinks are unnatural or if they trigger any DTOX rules.
If it is a link with low DTOXRISK, you should probably try to change the anchor text.
As a rule, do you disavow all links from sites that are not indexed by Google?
In short, yes - Disavow Non-Indexed sites as well.
Especially when Google has deindexed a site, this is often an indicator of a Penalty on one hand, and also no link power for you.
We therefore recommend to disavow them and also run Link Detox Boost on them, as the crawl frequency of non-indexed sites especially low, so these could be hindering your recovery.
Do I need to disavow NoFollow links that have a medium or high DTOXRISK?
It's a common misconception that NoFollow backlinks have no effect on your backlink profile. Think of a Wikipedia link. NoFollow links from spammy/ banned/ virus sites are still links from bad sites that are potentially harmful. Take blog comments for example – they are usually NoFollow, but that doesn't mean they are either worthless or harmless.
Many users asked us for our opinion which analysis mode to use, and we always and still believe it's very important to include NoFollow links in the analysis. Google included NoFollow links as spam examples as part of their answers to reconsideration requests.
We checked a total of 4,649 Toxic Link/Spam examples given by Google for 854 domains from the ones given as spam examples by Google. We found out that 3% of these links mention spam links hindering the recovery from a Google Penalty were NoFollow links. Read the full case study here.
If you see that a NoFollow link has a high DTOXRISK label, we recommend that you review the link first. If it does look like a bad link, you should remove it by contacting the webmaster for removal or by disavowing it.
Can I Un-Disavow a link after having it Disavowed before?
Yes, this work well after the URL in question was crawled.
Do I have to disavow domain:www.example.com or is it enough to disavow domain:example.com to disavow all subdomains?
It is sufficient to use domain:example.com to disavow all subdomains including the www-version. This is confirmed by Google and implemented by us this way.
Our system is based on Google's statements and here you can find a summary:
"If you want to ignore all links from that domain, you can say domain:pornsite.com"
Source Matt Cutts
http://www.youtube.com/watch?v=393nmCYFRtA&feature=youtu.be&t=4m10s
"If you want Google to ignore all links from an entire domain (like example.com), add the line domain:example.com."
Source Google Guidelines
https://support.google.com/webmasters/answer/2648487?hl=en
"The domain: needs the right syntax. domain: and domain, don't do domain: and http or www. or something like that. An actual domain like example.com or mattcuts.com is what we are actually looking for."
Source Matt Cutts
https://www.youtube.com/watch?v=CX5K741AlWg&feature=youtu.be&t=1m58s
http://googlewebmastercentral.blogspot.de/2012/10/a-new-tool-to-disavow-links.html
Please note that this entry is about URLS and not domains! http://www.example.com and http://example.com are not the same of course, and if you want to disavow both on Page basis you will have to enter them separately into the disavow file, BUT "You can always disavow an entire domain, of course." which means that you can disavow on domain basis, which works with domain:example.com. You can find a confirmation here: https://productforums.google.com/forum/#!msg/webmaster-de/tLBbhh-GXVg/pphAN40xn9gJ
What if the link I disavowed is still on the linking page? Does it make a difference how quick google revisits the page/poor link if the link is still there?
Ideally we want the potentially bad link gone, but practically that can be difficult. Please make sure you have uploaded the disavow file to Google Search Console, got confirmation and waited at least 48 hours before starting Boost.
Is disavowing fresh spam links found by Link Alerts enough to keep my link profile clean?
This only makes sense after you have done a complete link audit.
Then the next step is finding the new bad backlinks to disavow.
When does Google take the disavowed links into account?
Unfortunately nobody knows exactly when Google takes the disavowed links into account. This depends on when the URL disavowed is crawled again.
It can take several weeks or even months.
LRT has built Link Detox Boost tool that you can use to speed up the process of Google crawling your disavowed links.
When does the disavow work for me?
Typical questions are
When are links are really disavowed?
How can I know the disavowed links I just uploaded have reached Google? Will I get an email notification?
How long will I have to wait to see the result of upload the disavow to Google?
Google will take the disavowed links into account when they crawl them again.
They will not provide you with a confirmation per email or in Google Search Console that those links were really crawled.
The only confirmation you get is that they received the file, but that doesn't mean the disavow command is in effect already for your disavowed links.
Using Link Detox Boost you can
Speed up the crawling by forcing Google Bot to crawl exactly the links you want
Track if and when Google crawled those links
Therefore, we always recommend to use Link Detox Boost.
No. This is an old myth.
You don't need to respond to manual actions, or as it was called in the past file a reconsideration/reinclusion request to have Google process your disavow file.
The Google Disavow Tool confirms your upload within 24-48 hours and from then on the Google Crawlers have that information.
Link Detox Boost then furthermore helps get those disavow commands to the Google Bot work in faster than they used to.
Do I have to wait for the next data refresh of Google to see if a link removal was successful?
No. Usually you should see effects in link building or link removing after a couple of days or weeks. Of course very low quality links are only re-crawled every couple months, which could pose a problem.
Use the new Link Detox Boost to be better safe than sorry and waiting.
Is boosting too many links dangerous?
Should I boost slowly or should I just boost all the links after Google has parsed the disavow file that I uploaded to Google?
You can boost all the links which you have also uploaded in your disavow file at once.
If I had a manual action penalty removed and my traffic has not fully recovered so my site is struggling on ranking - should I use boost?
Yes. We recommend to boost all disavowed links in general, proactively and on an ongoing basis to support your link risk management.
In general, it's also possible to use Link Detox Boost on not-disavowed links if you are unsure if they were crawled.
Can Link Detox Boost® work with boosting disavow file links for domains from different countries?
Yes, all of our tools work for different countries.
Will Link Detox Boost work if there was no manual action but an algorithmic penalty
When launching Link Detox Boost, we confirmed it works for Manual Penalties. Now we can confirm it also helps sites trying to recover from a Penguin penalty . First disavow your unwanted links, and then use Link Detox Boost to force Google to re-crawl those spammy links.
The client disavowed ~40% of his links on a Friday, reduced Link Detox Risk (DTOXRISK) to 207, and started Link Detox Boost on Monday. The next day the Boosted site moved up 20 spots.
Should I use Link Detox Boost if I have received a manual penalty?
Yes. Link Detox Boost has worked wonders since its launch in 2012. We recommend it for every link disavow.
Does Link Detox Boost also support the domain syntax?
Yes
Can I use Link Detox Boost multiple times?
If you only want to check if links were crawled, you have unlimited Reprocessing for that in your reports.
For new Link Detox Boost runs (i.e. new links disavowed) you need additional credits and if you run out of credits you can buy them in the upgrade section.
What does Link Detox Boost® guarantee?
We guarantee that we do our best to make your disavows taken into account by Google. But since we are not affiliated with Google in any way there's no other guarantee beyond that..
Can you tell me more about what advanced technology that Boost is using?
We cannot disclose all the details, but we are using the advanced methods to push the Google bot in many ways that are not hurting any guidelines.
Do you have to enter all the individual URLs, or does it also work on domain level, for example: domain: xyz.com?
Domain should be sufficient
Some voices say that despite a domain-wide disavow, a recrawl of EVERY single page is necessary.
In our opinion this sounds crazy, but who knows, we're not Google, you're not Google, and we want to make sure you know about this method others are using.
This means you should use Link Detox Boost on the Homepage-Level for domain-wide disavows, AND BOOST each single page you found your link on.
Can I boost URLs from multiple sites in 1 Link Detox Boost?
No, it's always bound to the domain that you did the disavows for, so mixing up is not possible.
Link Detox Boost does not work! What should I do?
We are aware that removing a penalty is a hard and time-consuming process.
While boosting will speed up the whole disavow process for Google, it can still have many reasons why Link Detox Boost does not work as expected for a penalty in a specific case.
You need to look into your link profile in more detail to find the answers.
Do you have disavowed enough bad links? How does your Domain DTOXRISK look like?
Are you suffering from an algorithmic penalty? In this case it can happen that you have to wait until the next Google Update. But with the Boost you are now prepared!
Have you disavowed all links with high DTOXRISK? Quite often people disavow too few links because they want to hold on to stronger links that cost them a lot in the past…
Did you upload your WMT file and other backlink source files in Link Detox report to be sure that no links get lost?
Have you received more potentially bad backlinks in the last days or weeks? Please re-run your Link Detox to be sure or start a Link Alert. Could be a negative SEO issue or simply forgotten to upload GWT link data
Have you disavowed domains or pages? It is recommended to disavow the domains.
Have you boosted all URLs which you have disavowed?
Have all links been re-crawled already? You can check this by using the reprocessing button in your report. This is free.
Do you have enough good backlinks to rank again?
Do you have any unnatural tops in your link profile, even when you clean up your report? Start a CLA report for checking it.
TL:DR – Link Detox Boost speeds up the recovery process and working in Disavows faster, but if it's not enough disavowed, it's not enough.
What is the difference between Link Detox and Link Detox Boost?
Link Detox and Link Detox Boost are 2 different tools, but you can use them together.
Link Detox supports you in identifying potential risky links (also called toxic links). That helps you to decide which links should get removed or disavowed.
https://www.linkresearchtools.com/seo-tools/link-detox/
Link Detox Boost® forces the Google Bots to recrawl your disaow file. This way you can see faster improvements in ranking.
https://www.linkresearchtools.com/seo-tools/link-detox-boost/
I want to use Link Detox Boost only for indexed sites, and so exclude all the links that are not indexed anyway
It sounds like you believe that using Link Detox Boost is only required on indexed pages.
The point of BOOST is however to get pages crawled no matter if they are indexed or not.
Only when a page is crawled, the Disavow command for this page is processed by Google.
In fact, running BOOST on de-indexed (penalized) pages is often more important, for making the disavow file work for those.
No. Link removal is not required to get a Google penalty lifted.
As Google officially stated here , links that you cannot get rid of should simply be disavowed. This is the case for many Web 2.0-Links, Article Directory Spam, Link Directory Spam and of course Blog Comments.
Of course Google wants to see effort and there are some very simple ways to show them all your effort.
There are great ways to increase your success rate with removal and reconsideration. Become an LRT Certified Professional and you will learn those ways.